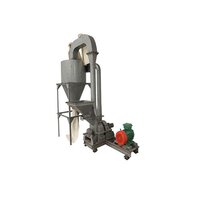 Besan Plant Impact Pulverizer
Product Description
Grinding Capacity From 100 to 300 Mess in Grinding Machines.
8 Beater (Hammer ) Fitted in 12 to 25 H. P. Machines & 8, 16, 24, Beater Fitted in big Machines.
Mesh is not required in Impact Pulvarizers with the help of Air Circulation, Automatic Blower helps to collect flow in cyclone Tank.
List of fitting repairing etc. is provided alongwith order of Machine.
30 % deposit amt. should be paid along with the order of machine Within 1 or 2 weeks, time Hundi will be sent through our Bank.
To grind fine Turmeric Powder like flour ( Maida), Besan Plant Machine without Mesh is excellent.
Sagal, Mineral & Furnaces all types, Besan & other products ( Chemicals ) are also Grinded.
Note:- Impact pulsing Machine is used to grind Besan, Pappad Atta, Turmeric, Harad, Behada.
Also big machines are used for fine grinding of chemicals, Minerals, Coal, Bauyite, gypsum, Soap, Stone, Calcite Tamarind Seeds, Leather China, Niroo Powder, Dolamite, Powder & all types of Mineral Stones.
The Capacity ... Pulvarised like Niroo, lime-stone, Dolamite, Coal, Red Oxide, Bauxite, Gypsum China clay, Soap Tone, Calcite, Chromite, Tamarind Seeds, Ochre, Mica Chips, Besan grain Dal, bestis, Spices.
| | | | | |
| --- | --- | --- | --- | --- |
| Horse Power Required 1440 RPM | | | | |
| | | | | |
| | | | | |
| | | | | |
| | | | | |
| | | | | |
| | | | | |
| | | | | |
| | | | | |
| | | | | |